This user has not added any information to their profile yet.
I help Black professionals become rental property owners and achieve financial freedom with common sense investing strategies
Remote or face-to-face interviews
As founder of Affordable Real Estate Investments, I turn Black professionals into rental property owners, and help them to achieve financial freedom by creating:
- A passive income rental portfolio
- Real generational wealthir higher calling
- Empowered investors that make the world a beto help 2 million black americans earn 6 figures in crypto currency per crypto cycle (4 years). It's wealth generation, passive income, and currency all in one if you do it right.  List Question Below****
Coping with my new reality, I came upon a strategy of owning inexpensive rental properties for cash flow that was possible, even when a traditional mortgage wasn't obtainable. As my strategy started to show consistent results I started teaching others about it on my platform Affordable Real Estate Investments.
Affordable Real Estate Investments is a platform that provides step-by-step tools, online coaching, and training for investment in rental properties. I specialize in helping Black professionals build profitable rental property portfolios. My clients are generally first generation college, first generation white collar, and this is the best way to wealth investing in minority neighborhoods.  My strategy is that investments should be affordable for beginning investors--costing $30,000 - $50,000, and without buying in a war zone, or getting headache tenants.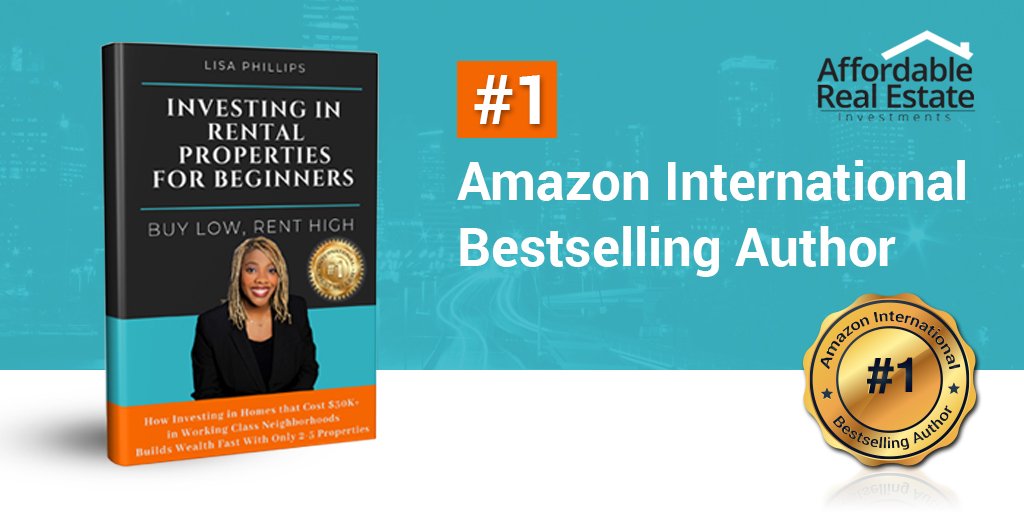 I have personally helped over 580 investors build their rental portfolios to $2,000 - $4,000, and have inspired over 47,000 more. As an international bestselling author, my message is spreading overseas as my global client base is expanding as well.
By just speaking my truth on youtube, and empowering others with my success strategies, my online platform of devoted Change Making Investors has grown. I now have 47,000 viewers on my website, over 719,000 youtube views, and a 5500+ Facebook group of those who have used and implemented my investment techniques.
Today I am:
A well-known real estate investing influencer and mentor in the rental property coaching space
A sought-after guest for personal finance and real estate investing radio shows and podcasts
The host of nationwide investing seminars
A popular keynote, workshop, and motivational speaker
Buying Properties Under $50,000:
- Business, Finance, Investing, Real Estate Investing (not agents, buy and hold)
- How to find and invest in rental properties that cost less than $50,000
- How a few homes in this price range can give you financial freedom so you can focus on your higher purpose and calling
- How your cash resources will affect your investment strategy and which homes you get
- Introduction - Different Financing options and how they impact your investing strategy
- Cash vs Mortgage vs Personal Loans etc.
- Finding the right market to fit your strategy
- How investing long distance is easier than you think
- Compassionate and responsible investing - how profits and purpose can and should always be combined
How To Earn 100s of Thousands In Crypto Currency and Bitcoin -
--Why The Stock Market Is Dead In The Water with Mainstream Adoption
--How this is an EASY time in creating wealth in crypto currency - with more than enough room to be a bitcoin millionaire still here
--What coins to buy as a new crypto currency or bitcoin investor, and why
--Which exchanges I recommend buying from for beginners
--How focusing on 1-4 target areas can make you 100s of 1000s with $100 - $300 investment
--Why You SHOULDNT sell your bitcoin (although everyone wants to accept it as payment) and what you should spend INSTEAD
--At what price points does a crypto currency change from a stock, to a currency, to a wealth asset - so you dont get left holding the bag.
--How you can do what the wealthy do and use your crypto as a wealth vehicle, and tap into the equity again and again versus selling (flipping vs buying and holding for passive income).
- What investing do you do in general, and how did you get started?
- What are the different ways you can purchase properties?
- What happens when you can't qualify for a traditional mortgage?
- Cheap Properties are great, but what cash flow should I be shooting for?
- Assuming we found the right market, what's a good target cash flow?
- What's the 2% rule used in rental properties?
- How do we estimate those costs?
- How can we pay for renovation costs?
- How can we get more information?
I'll promote my appearance through my social media contacts